It demonstrates potent antioxidant and anti-inflammatory, immunoregulating, anticancer,
chemoprophylactic and antimetastatic activity in vitro and in vivo, as well as chemo- and radiosensitization properties through several mechanisms: promoting apoptosis, inhibiting survival signals, scavenging reactive oxidative species (ROS), and reducing the inflammatory cancer microenvironment [1].
Curcumin significantly inhibits cancer cell migration, invasion, and colony formation in vitro and reduces tumor growth and liver metastasis in vivo [2]. For this reason, curcumin is used adjuvantly to other classical or alternative antitumor treatments, in all major cancers.
For example, curcumin interferes with prostate cancer proliferation and metastasis development through the down-regulation of androgen receptor and epidermal growth factor receptor, but also through the induction of cell cycle arrest. It regulates the inflammatory response through the inhibition of pro-inflammatory mediators and the NF-κB signaling pathway [3].
It is known also that curcumin sensitizes tumors to different chemotherapeutic agents [4].
The safety profile of dietary curcumin in humans has been well-documented, and its therapeutic prospect in treating prostate cancer, especially for castration-resistant prostate cancer, has been evidenced in several cell culture systems and human xenograft mouse models [5].
The critical disadvantage of curcumin as a drug candidate is its low bioavailability caused by poor water solubility and rapid in vivo metabolism.
Curcumin fulfills the characteristics for an ideal chemopreventive agent with its low toxicity, affordability, and easy accessibility.
Nevertheless, the clinical application of curcumin is currently compromised by its poor bioavailability, due to its limited intestinal uptake and rapid metabolism.
Novel aqueous formulation of curcumin of higher bioavailability
Various formulations of curcumin, including nanoparticles, liposomal encapsulation, emulsions, capsules, tablets, and powder, have been used until now.
Curcumin micelles are a newly developed formulation of liquid micelles [NovaSOL®Curcumin] that account, until now, for the most increased curcumin bioavailability and circulates as food supplement named Curcugkel.
Micellization (the formation of micelles) has been demonstrated that improves antitumor activity for curcumin because the curcumin micelles are completely water-dispersible (amphiphilic) and are able to overcome the problem of poor water solubility that limited the absorption, bioavailability, and efficacy of curcumin, in the past.
In vitro cellular cultures demonstrated that the curcumin-loaded micelles were taken up mainly via endocytosis route and exhibited higher cytotoxicities toward model cancer cell lines (HeLa and EMT6) than free curcumin.
An in vivo biodistribution study in mice revealed that the curcumin-loaded micelles displayed significantly enhanced accumulation inside the tumor of EMT6 breast tumor cells.
It was impressive that curcumin-loaded micelles demonstrated stronger antitumor activity, higher anti-angiogenesis effects and induced apoptosis on the EMT6 breast tumor model bearing mice than free curcumin [6].
The curcumin-loaded micelles demonstrated no significant toxicity from any organ or tissue in mice.
Combined with a high antitumor activity and low toxic side-effects, the curcumin-loaded micelles appear to be a highly attractive nanomedicine for effective, targeted cancer therapy [6].
Schiborr C et al (2014) in Germany developed novel curcumin formulations [micronized curcumin and micellar curcumin] with improved oral bioavailability and they studied their safety as well as potential sex differences [7].
In this crossover study, healthy subjects (13 women, 10 men) took, in random order, a single oral dose of 500 mg curcuminoids as native powder, micronized powder, or liquid micelles [NovaSOL®Curcumin].
Blood and urine samples were collected for 24 h and total curcuminoids and safety parameters were quantified.
Based on the area under the plasma concentration-time curve (AUC), the micronized curcumin was 14-, 5-, and 9-fold and micellar curcumin 277-, 114-, and 185-fold (or 18.500%) better bioavailable than native curcumin in women, men, and all subjects, respectively [7].
The C-Max, T-Max and Retention levels are so exponentially higher than any other type of curcumin due to the fact that most curcumin is excreted out through the liver within 2 hours of ingesting and NovaSOL®Curcumin remains in the plasma for over 24 hours! [7].
Thus, women absorbed curcumin more efficiently than men. All safety parameters remained within the reference ranges following the consumption of all formulations.
Both, the micronized powder and in particular, the liquid micellar formulation of curcumin [NovaSOL®Curcumin] significantly improved its oral bioavailability without altering safety parameters and may thus be ideally suited to deliver curcumin in human intervention trials.
The observed sex differences in curcumin absorption warrant further investigation.
Curcumin powder provides poor absorption and bioavailability into the body that is required for maximum results[7].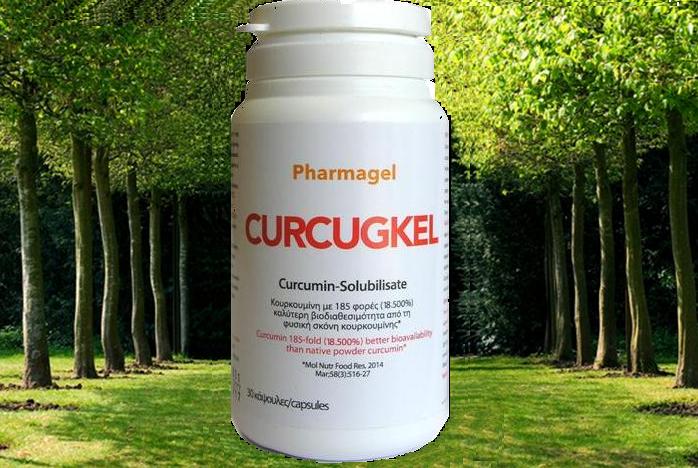 The liquid micelles of NovaSOL®Curcumin are clinically proven to be the most bioavailable form of curcumin, which is circulating now in Europe as a food supplement with the commercial name Curcugkel.
Each capsule ofCurcugkel contains 670mg NovaSOL®Curcumin which is equivalent to approx. 8 gr standard curcumin 95% or equivalent to 16 capsules of 500mg of curcumin native powder.
References
1.Wungki Park, A.R.M Ruhul Amin, Zhuo Georgia Chen, Dong M. Shin New perspectives of curcumin in cancer prevention. Cancer Prev Res (Phila) Author manuscript; available in PMC 2014 May 1. Published in final edited form as: Cancer Prev Res (Phila). 2013 May; 6(5): 387–400.
2. Abuelba H1, Cotrutz CE, Stoica BA, Stoica L, Olinici D, Petreuş T. In vitro evaluation of curcumin effects on breast adenocarcinoma 2D and 3D cell cultures. Rom J Morphol Embryol. 2015;56(1):71-6.
3. Marie-Hélène Teiten, François Gaascht, Serge Eifes, Mario Dicato, Marc Diederich
Chemopreventive potential of curcumin in prostate cancer. Genes Nutr. 2010 March; 5(1): 61–74. Published online 2009 October 6.
4. Kang JH1, Kang HS1, Kim IK1, Lee HY1, Ha JH1, Yeo CD1, Kang HH1, Moon HS1, Lee SH2. Curcumin sensitizes human lung cancer cells to apoptosis and metastasis synergistically combined with carboplatin. Exp Biol Med (Maywood). 2015 Feb 25. pii: 1535370215571881. [Epub ahead of print]
5. Chen QH1. Curcumin-based anti-prostate cancer agents. Anticancer Agents Med Chem. 2015;15(2):138-56.
6, Lv L, Shen Y, Liu J, Wang F, Li M, Li M, Guo A, Wang Y, Zhou D, Guo S. Enhancing curcumin anticancer efficacy through di-block copolymer micelle encapsulation. J Biomed Nanotechnol. 2014 Feb;10(2):179-93.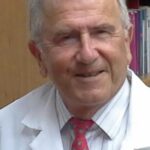 Iατρός, Ωτορινολαρυγγολόγος, Οδοντίατρος
Διδάκτωρ της Ιατρικής Σχολής του Πανεπιστημίου Αθηνών
Διεύθυνση: ΦΛΑΜΠΟΥΡΟ ΛΟΥΤΡΑΚΙΟΥ ΚΟΡΙΝΘΙΑΣ
Τηλ: 6944280764
Email: pharmage@otenet.gr
www.gelis.gr, www.pharmagel.gr , www.orlpedia.gr , www.allergopedia.gr, d3gkelin.gr
www.vitaminb12.gr, www.zinc.gr, www.curcumin.gr